A cat with a view
There was Brownie the stuffed giraffe, a war casualty from a Palestinian zoo, which stared at me recently at a major exhibition. There was this story of American zoos selling pictures painted by orang-utans. And then there was my cat Smaka purring like mad when I was reading art magazines. Smaka? All of a sudden I knew: My cat wanted to tell me something, wanted to let out her depressed creativity, wanted to communicate her view of the world. There was only one thing missing: the proper tool.

Easier said than done. My usually resourceful cat could hold neither pencil nor brush. Installations were limited to particularly piled cat food tins, well oil drums were too big, really. Sculptures made of decaying mice might have made it into modern galleries would they have been pickled in formaldehyde, but it would have been discovered quickly that the idea wasn't new.

That's why I have chosen a camera. As light as a feather and easy to wear as a collar, it turned out to be the ideal means of expression for my creative cat.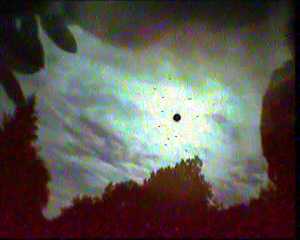 Like everything else, Smaka's point-of-view: Backlight with black sun